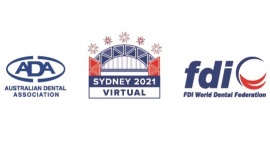 The ADA FDI 2021 World Dental Congress – Special Edition 2021
Organizador: Australian Dental Association (ADA) and FDI World Dental Federation
Sede: Virtual event, Sydney, Australia
Página web:
ir a
Fecha: desde: 2021-09-26 hasta: 2021-09-29
Cuota: No especificado
Visualizaciones: 843

The ADA FDI 2021 World Dental Congress – Special Edition virtual event will be fully Hosted and encompass over 200 Scientific Programme sessions and an associated Exhibition – with some elements pre-recorded.

Essentially "more highly produced Television Streaming Service than ZOOM". This year's World Dental Congress – Special Edition will bring together leaders from across the world in dental practice, research, academia and industry to present quality, innovative and effective continuing education.

It is expected that between 6,000 to 8,000 delegates will participate, drawn from Australia and throughout the world. Attendees will include dentists, dental hygienists and therapists, dental assistants, dental prosthetists, and other dental professionals.

At the heart of the Congress is a cloud-based distribution platform enabling LIVE programming plus on-demand services and exhibition access for an additional 60-days post Congress. This provides supporters of FDI and the Australian Dental Association effective return on investment and a unique opportunity to stay engaged with delegates and other associated participants well beyond this year's Congress.

We have created an online Showcase for exhibitors, with dedicated individual 'interactive zones' allowing organisations to not just provide and display information, but to engage with participants interactively via chat and video consultations.

This year's Congress is offering organisations scheduled virtual exhibitor symposiums within the range of sponsorship opportunities, i.e., either pre-recorded or LIVE productions* (*at separate additional expense) to demonstrate products and promote services. Exhibiting at this year's virtual event guarantees priority placement in the full scale FDI World Dental Congress exhibition, returning to Sydney, Australia in 2023, Sunday 24 - Wednesday 27 September.